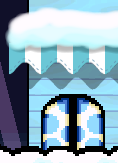 Chill E.'s Ice Cream Parlor
is an Ice Cream Shop in the
Kirby Vs. Shy Guy
series.
Kirby Vs. Shy Guy
Edit
Chill E.'s Ice Cream Parlor was only seen in The Quest for Ice Cream. Kirby and Yoshi went to the Ice Cream Parlor to get something to eat. It is very unlikely that they'll ever visit the Ice Cream Shop again.
Chill E.'s Ice Cream Parlor is owned by proud owner, Chill E. (whom the shop was named after). It is best known for its ice cream treats and delightful flavors. One of its most famous food is the Super Duper Ice Cream Cone.
Chill E.'s Ice Cream Parlor was formly located in the Yoshi Island, but it was moved into its current location, Shiverflare Village.
Customers
Edit
Because the Ice Cream Parlor only appears once, Kirby and Yoshi are the only notable customers of Chill E.'s Ice Cream Parlor.
Ad blocker interference detected!
Wikia is a free-to-use site that makes money from advertising. We have a modified experience for viewers using ad blockers

Wikia is not accessible if you've made further modifications. Remove the custom ad blocker rule(s) and the page will load as expected.